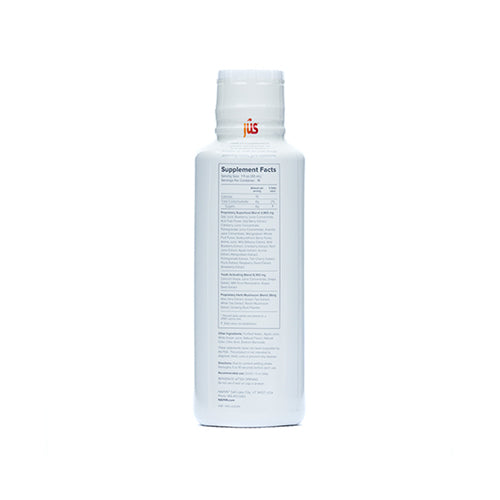 About the Product 
JUS is one of the most powerful antioxidants on the market.
Superb Antioxidant
23 Colorful Superfoods, Fruits, and Herbs
Activates Longevity Gene for Longer Life
Product Description
HAVVN JUS is the most powerful complex formulation of natural ingredients designed to provide full-spectrum, antioxidant protection. With 23 colorful superfoods, fruits and herbs, you know you are getting the best antioxidant supplement that also tastes delicious. No more pills or tablets, people who drink JUS soon wonder how they lived without it. HAVVN JUS is the foundation for a healthy lifestyle which makes it the premier antioxidant drink.
Information
In the newly emerging science of Epigenetics, we are learning that only 30% of our life's health outcomes are predetermined by our genetic inheritance. The other 70% is decided by other factors:
Our Environment
Our Nutrition
Our Social/Relational Influences
The foundation of a healthy diet is a complete spectrum of naturally sourced nutrients. That is why HAVVN JUS has been formulated to give your body a wide array of nutrients that your body needs for optimal health. There is no single superfruit, berry, or herb that gives the full gamut of core nutrients that are found in HAVVN JUS.
With a mega dose of resveratrol and the amplifying effects of our proprietary super-polyphenol blend, HAVVN JUS is an unparalleled youth-span tonic. With clinical trials showing profoundly positive impacts on health and well-being, resveratrol is a miracle substance that activates the SIRT1 gene and promotes youthful life extension. The ability of the super-polyphenols to increase the body's own ability to utilize resveratrol guarantees you get the most efficacious results from our carefully crafted HAVVN JUS.
Ingredients
Proprietary Superfood Blend
Goji Juice, Blueberry Juice Concentrate, Acai Pulp Puree, Goji Berry Extract, Cranberry Juice Concentrate, Pomegranate Juice Concentrate, Acerola Juice Concentrate, Mangosteen Whole Fruit Puree, Sea Buckthorn Berry Puree, Aronia Juice, Wild Bilberry Extract, Wild Blueberry Extract, Cranberry Extract, Noni Juice Extract, Apple Extract, Aronia Extract, Mangosteen Extract, Pomegranate Extract, Tart Cherry Extract, Prune Extract, Raspberry Seed Extract, Strawberry Extract
Youth Activating Blend
Concord Grape Juice Concentrate, Grape Extract, 98% Pure Resveratrol, Grape Seed Extract
Proprietary Herb Mushroom Blend
Aloe Vera Extract, Green Tea Extract, White Tea Extract, Reishi Mushroom Extract, Ginseng Root Powder
Other Ingredients
Apple Juice, White Grape Juice, Natural Flavor, Natural Color, Citric Acid, Sodium Benzoate
Directions
Due to content settling, shake thoroughly 5 to 10 seconds before each use. Drink 2 – 4oz daily. Refrigerate after opening.