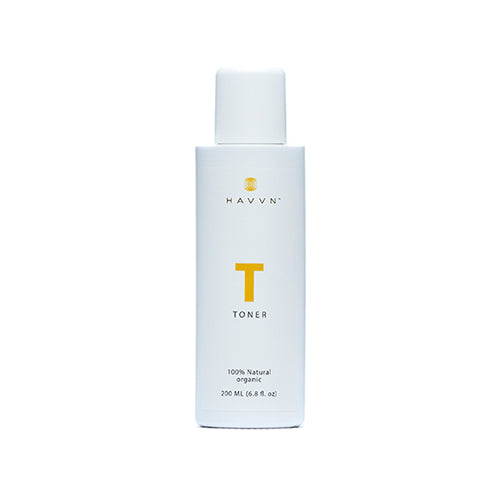 About the Product
The HAVVN skin care collection works in harmony with your body's code to produce vibrant and youthful health inside and out. NEVER any toxins or harmful chemicals.
Facial Toner
Removes Makeup
All Natural
Chemical Free


Product Description
HAVVN Herbal Toner for cleansing and toning removes makeup and impurities from the face, neck and chest. It refreshes the skin while the combination of herbal components has a relaxing effect. HAVVN Herbal Toner is recommended for all skin types and can be used in the morning, as well as, in the evening. Clean skin is essential and serves as an overall base for further skin care. By using HAVVN Herbal Toner your skin will be thoroughly clean from impurities accumulated during the day and fully prepared for treatment with the HAVVN DNA Skin Care. It contains no harmful toxins and is 100% all natural.
Never any harsh chemicals. No sulfates, No parabens, No petrochemicals, No dyes and No phthalates.
May be used individually.
Information
HAVVN Herbal Toner is a part of the HAVVN skincare system that contains all-natural compounds that work together for dramatic anti-aging and healthy skin results. The HAVVN skincare system works in harmony with your body's code to produce vibrant health, inside and out. This revolutionary system is truly 100% all-natural -the first product of its kind, to emulsify oil and water without any harmful chemicals. 100% natural. 100% results. NEVER any harmful chemicals.
Ingredients
Water (Aqua), Plantago Lanceolata (Plantain) Leaf Extract, Calendula Officinalis (Marigold) Flower Extract, Hyperycim Perforatum (St. John's Wort) Flower Extract, Angelica Archangelica (Wild Celery) Extract, Glycyrrhiza Glabra (Licorice) Root Extract, Lavandula Angustifolia (Lavender) Oil, Cymbopogon Martini (Palm Rose) Oil, Limonene*, Geraniol* Linalool*
*contained in essential oils
Directions
After cleansing face, apply HAVVN Herbal Toner to a cotton ball or tissue and remove the remaining make-up from face, neck, and eyes by light sweeping movements.  Repeat the procedure until the cotton remains clean.  After cleaning apply the cream of your choice.  For maximum results use HAVVN Herbal Toner with HAVVN Cleansing Milk and HAVVN DNA products.  Studies have shown that using this combination will diminish fine lines, wrinkles and age spots and keep your skin healthy and vibrant.